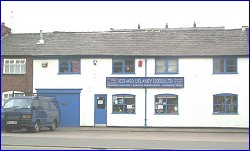 Welcome...
Richard Delaney first opened on Mill Lane in Macclesfield about 40 years ago. It started off as a supplier of Ironmongery, which the Company still stocks, we have become the leading Engineers Supplier in the area. The shop itself (often referred to as an Aladdin's Cave) has a very strong traditional feel to it and has to be visited just to appreciate not only the wide range of products on offer, but also the welcome that customers receive.
Over the years the Company has become the supplier of choice for a number of specialised products – unobtainable in most similar outlets – for engineers and tradesmen. We have in stock items such as taps and dies, nuts, bolts and screws of all sizes and threads, including Imperial sizes, Steam Pipe and fittings, cutting and threading service while-u-wait, hydraulic pipe and fittings, crimping and making up while-u-wait, Certified lifting equipment, ie strops, D Shackles etc. The list of products is endless, visit us to see if we have what you want. If we do not have it in stock, then we will do our best to obtain it.
We can be found on Mill Lane, conveniently close to the centre of Macclesfield with car parking facilities, and we employ knowledgeable and helpful staff who will endeavour to satisfy all your requirements.
Our opening times are :
8.00am 'til 5.00pm Monday, Tuesday, Thursday and Friday,
8.00am 'til 4.00pm on Wednesday.
9.00am 12.00 midday on Saturday.